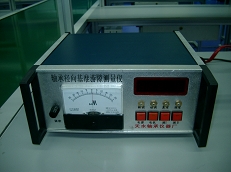 Quality Policy Statement
"We do whatever it takes to satisfy our customers."
We are customer driven and our highly developed quality systems and process controls ensure predictable quality.
Quality Capabilities
Our quality department and production areas are equipped with all the necessary gauging to ensure excellent product quality. Electronic gauges and SPC help reduce variation.
Process Controls
Quality is "built in" to many production processes with innovative "mistake-proofing" devices. Our systems are well documented and robust. The assembly process pictured below measures bearing components so the optimum ball size is selected. This optimized selection allows us to accurately control the amount of play in the assembled bearings.
Procedures/testing Details
All raw materials and components are subject to rigid metallurgical tests and only qualified materials are used.
All components processed in every manufacturing stage are inspected and tested strictly.
All our components are cleaned after grinding, and all the finished products are cleaned and dried several times.
100 percent inspection and testing is carried out before packing, including noise and vibration testing, radial and axial clearance inspection.
Instrumentation & Test Equipment
l State of the art test equipment is available for product qualification and analysis.
l Machinery/Equipment for Quality Test
l Optimized AutoCAD facilities
l Machining center
l Length meter
l Taylor roundness contour graph instrument
l Groove curvature meter
l Roughness meter
l Hardness meter
l Fatigue life tester for bearings
l Grease leakage/temperature tester
l Mud/dirt protection tester
The Quality Team
Our highly skilled Quality Team understands the manufacturing process and customer requirements.